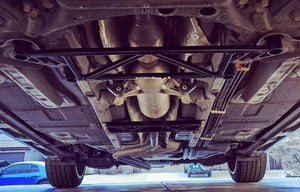 TC2/XB2/IM Mid Chassis Brace Installation Guide
Congrats on purchasing your TB Performance Products Mid Chassis Brace for your Scion. In one to two hours youll be out ripping the canyons and enjoying the extra grip and performance!
Step 1.) Put your car in the air via jacks or ramps.
Step 2.) Locate the location for the brace to install to. You can use the pictures in my tc catalog for reference.
Step 3.) Remove the 4 bolts.
Step 4.) Slip the brace on
Step 5.) Install brace reusing the OEM hardware. Make sure you leave all four bolts loose while installing. This will keep the brace from getting cocked and making reinstallation of the bolts difficult.
Step 6.) Tighten all bolts down. For your exact years torque spec please call your local dealership.
Step 7.) Remove ramps or jacks
Step 8.) Take your car for a rip and enjoy the added traction and grip!
Notes:
If you get hung up, there are several videos on youtube showing the whole install. You can also check out the TB Performance Products Army Facebook group.
---