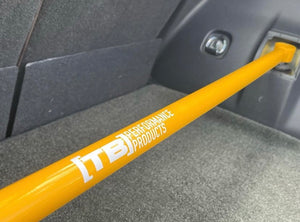 TC2/XB2/IM Rear Strut Bar Installation Guide
Congrats on purchasing your TB Performance Products Scion Rear Strut Bar! In about 15 minutes youll have some show stopping looks and added handling! This legendary part has a racing pedigree and is one of our oldest designs! We hope you love it!
Step 1.) Open the hatch
Step 2.) Remove all old gym clothes, skateboards and textbooks
Step 3.) Using a screwdriver or knife, carefully remove the plastic shock covers on each side of the hatch
Step 4.) Slip the TB Performance Products Rear Strut Bar over the tops of the shocks.
Step 5.) Using the supplied m12-1.25 jam nuts, tighten the brace down onto the shock.
Step 6.) tighten the brace down nice and snug. No torque spec needed here.
Step 7.) Put all your stuff back in the hatch and close her up!
Step 8.) Its go time! Find the local canyon and go enjoy your new brace!
Notes:
This brace is designed for the oem strut that has an m12-1.25 thread pitch. Almost all aftermarket shocks and coilovers use the same m12-1.25 thread pitch but in the rare chance that yours use a different pitch, youll need to source different hardware.
If you have difficulties or questions about installing check out the TB Performance Products Army Facebook group. There are a ton of fellow scion owners who have installed these braces. Its a friendly place to ask questions
---