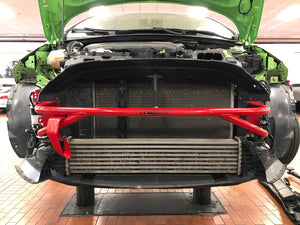 Fiesta ST Front Crash Bar Installation Guide
Congrats on purchasing the best cosmetic upgrade out there for your fiesta st! In around 2-3 hours youll have more airflow to your radiator and intercooler as well as show winning looks!
Step 1.) begin by removing your headlights and front bumper cover. There are several guides that detail this entire process on the forums as well as videos on youtube.
Step 2.) with the bumper cover and headlights out, locate the oem crash bar.
Step 3.) remove the wiring looms from each side of the oem crash bar. Be sure not to damage the clips as they will be reused on the TB Performance Products bar.
Step 4.) with the wiring looms disconnected, disconnect the airbag sensors. These will be reinstalled on the TB Performance Products bar
Step 5.) remove the oem hood latch connection.
Step 6.) finally remove the 8 bolts securing the crash bar to the unibody and remove the crash bar. Any plastic shielding that comes off can also be removed. These will not be reused with the TB Performance Products bar
Step 7.) reuse the oem 8 bolts to connect the TB Performance Products crash bar.
Step 8.) reconnect the hood latch to the cup in the center of the main bar using the supplied m6x1.0 bolt and nut.
Step 9.) using the two included m6x1.0 bolts reconnect your airbag sensors to the tabs behind the main bar on the crash bar
Step 10.) reconnect the wiring looms to the mounts on the TB Performance Products crash bar. If you damaged or lost the clips, use zip ties to secure the loom to the crash bar.
Step 11.) if you have a FMIC, oil cooler or other accessory that mounts to the crash bar follow these directions https://tbperformanceproducts.com/blogs/news/learn-how-to-mount-lightbars-intercoolers-and-horns-to-your-crash-bar?_pos=4&_sid=bae4fef78&_ss=r
Step 12.) reinstall headlights and bumper cover
Step 13.) snap some pictures, post em to the gram and send em to tbperformanceproducts@gmail.com!
Notes:
-There is a great video guide for this available at https://m.youtube.com/watch?v=9hv8FPtQICI
-if you have issues with installation check the TB Performance Products Army Facebook page! There are loads of customers who have installed these parts and can help you out.
---