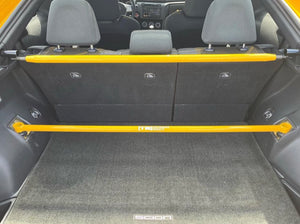 Scion TC2 C-Pillar Brace Installation Guide
Congrats on purchasing your TB Performance Products C Pillar Brace for your Scion TC2! This brace will reduce your moonroof creaking while also increasing handling and grip! In about 25-30 minutes youll be out enjoying the show winning looks and added handling!
Step 1.) Open your hatch
Step 2.) Using a 10mm deep socket remove the bolts in the plastic paneling on the C Pillar(one on each side)
Step 3.) Carefully install the bolt into the mounting cup on one side of the c pillar brace
Step 4.) Bolt the one side in leaving the C pillar Brace fully compressed. The other side should be supported and not connected to the other-side.
Step 5.) Rotate the brace much like a shower curtain to expand it into position where you can reinstall the other bolt.
Step 6.) Tighten both bolts. Do not over tighten these bolts or they will break.
Step 7.) Rotate the brace to get the desired tension.
Step 8.) Snap a picture and send it to the TB Performance Products Instagram and go take your ride out for a rip!
Notes:
Do not overtighten this part. Simply get it snug. You will not gain performance from overtightening this brace but you could damage your car, so maybe dont go hulk smash?
If you have difficulties or questions about installing check out the TB Performance Products Army Facebook group. There are a ton of fellow scion owners who have installed these braces. Its a friendly place to ask questions
---