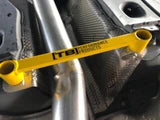 Vw Mk7 and 8 Jetta/GTI/Golf R Rear Mid Chassis Brace Install Guide
Congrats on your new TB Performance Products rear mid chassis brace for your Volkswagen gti, golf r, jetta or golf! In 30 minutes to one hour youll have the solution to that pesky exhaust rattle as well as some added performance!
Step 1.) Put your car in the air on jacks or ramps. Some people may be able to skip this step if their arms are long enough.
Step 2.) Locate the factory brace on fwd models. If you are working with an awd model, the location will be two studs hanging down in the back portion of the exhaust tunnel about 3/4 the way through the middle of the car.
Step 3.) Remove the factory brace
Step 4.) Slip the brace on and snug the nuts down
Step 5.) Tighten the bolts. No torque spec is needed. Just tighten them down.
Step 6.) Snap a picture to post!
Step 7.) Remove your car from ramps or jacks
Step 8.) Go enjoy your new brace! Dont forget to tag us in any social media posts!
Notes:
If you get weird noises, this brace is not likely to be the cause unless you grossly undertightened the bolts. Common areas for clunking noises are end links, sway bar mounts, sway bar bushings, strut hat bushings, ball joints. We have never had this brace cause noises so check elsewhere.
-if you have issues with installation check the TB Performance Products Army Facebook page! There are loads of customers who have installed these parts and can help you out.
You will NOT need an alignment after this install.
---