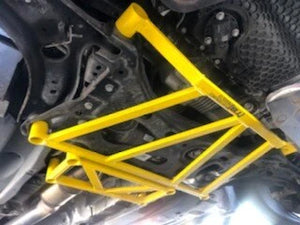 Vw Mk7 and 8 Jetta/GTI/Golf R Crossmember Brace Install Guide
Congrats on purchasing your TB Performance Products Crossmember Brace for your Volkswagen GTI, Jetta, Golf R or Golf! In 1-2 hours youll be out enjoying the added handling and improved grip!
Step 1.) Lift car using jacks or ramps
Step 2.) Locate the 4 bolts youll remove to install the brace. These are found where the crossmember and unibody meet. There are two small stamped factory braces in this area
Step 3.) You can add the crossmember brace over the factory braces to add even more rigidity.
Step 4.) Remove the 4 bolts
Step 5.) Slip brace on and reinstall the oem bolts. Youll want to leave them loose as you get the 4 bolts installed. This prevents the brace from being cocked and not lining up.
Step 6.) Tighten the bolts down. For torque specs for you exact model and year please call your local dealership. The numbers we have from our dealer are 20nm+90* for the two smaller bolts on the unibody and 70nm+180* for the larger bolts on the subframe itself
Step 7.) Remove car from jacks or ramps
Step 8.) go take her out for a rip!
Notes:
-If you get clunking noises, this brace is not likely to be the cause unless you grossly undertightened the bolts. Common areas for clunking noises are end links, sway bar mounts, sway bar bushings, strut hat bushings, ball joints. We have never had this brace cause noises so check elsewhere.
-if you have issues with installation check the TB Performance Products Army Facebook page! There are loads of customers who have installed these parts and can help you out.
-You will NOT need an alignment after this install.
---