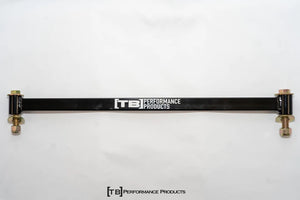 Fiesta ST Torsion Bar Installation Guide
Congrats on purchasing your torsion bar for your fiesta st! This install is very easy and will only take around 30 min start to finish! Youll be out enjoying less body roll and increased performance shortly!
Step 1.) lift the rear of your car into the air using jacks or ramps or a lift
Step 2.) identify your torsion beam and look for the two holes in it
Step 3.) using the supplied hardware install the torsion bar into the torsion beam. Youll want to have the threaded portion of the bolts facing down.
Step 4.) tighten the bolts using a 19mm or 3/4" socket and wrench.
Step 5.) torque to 70 ft lbs
Step 6.) lower vehicle from the air and go enjoy your new brace!!
Notes:
-If you get clunking noises, this brace is not likely to be the cause unless you grossly undertightened the bolts. Common areas for clunking noises are end links, sway bar mounts, sway bar bushings, strut hat bushings, ball joints. We have never had this brace cause noises so check elsewhere.
-if you have issues with installation check the TB Performance Products Army Facebook page! There are loads of customers who have installed these parts and can help you out.
-You will NOT need an alignment after this install.
---