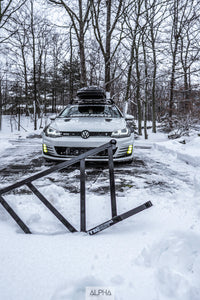 Vw Mk7 and 8 Jetta/GTI/Golf R Torque Gusset Install Guide
Congrats on purchasing your TB Performance Products Torque Gusset Traction Bar! In 1-2 hours youll be enjoying more protection for your oil pan, less wheel hop and torque steer as well as sharper handling!
Our good friend Adam Crane wrote this detailed how to! Give it a check!
https://docs.google.com/document/d/1iLd5aHExx8rI2pUJY-f1jFQEUmxADI5_I6NBDG9rzU8/edit?fbclid=IwAR28u7HgMl6JsIOdOHXaRzT1D88ABGkXjEsM0xG-jIxRRI9cyMYWOalrRkg
Notes:
-dsg trans owners will want to remove the dogbone motor mount and loosen the crossmember bolts to gain access to the horizontal lca bolt. Use a bar to push the motor and trans back while you work. You DO NOT need to remove the crossmember. Just lower it enough to gain access. You DO NOT need to align the car afterwards. 
-If you get clunking noises, this brace is not likely to be the cause unless you grossly undertightened the bolts. Common areas for clunking noises are end links, sway bar mounts, sway bar bushings, strut hat bushings, ball joints. We have never had this brace cause noises so check elsewhere.
-On rare occasions clunks may be caused by needing to replace the oem horizontal lca bolts.
-if you have issues with installation check the TB Performance Products Army Facebook page! There are loads of customers who have installed these parts and can help you out.
-You will NOT need an alignment after this install.
-This brace acts like a skid plate and is designed to protect the oil pan and absorb hits.
---