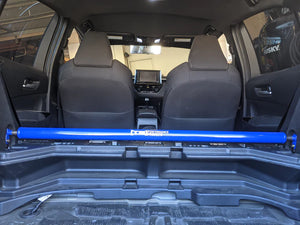 E210 Corolla Rear Strut Bar(Trunk Brace) Installation Guide
Congrats on purchasing your Rear Strut Bar for your E210 corolla! In under 5 minutes you'll have this part installed and be ready to rip the local canyons and enjoy improved handling! 

1.) Open your trunk and look to the sides of the trunk. There are 2 clips one on each side.

2.) Remove the cap and remove the m6 bolt behind that using a 10mm socket.

3.) Position the brace and install one side into the bolt hole using the included m6x1.0x20mm hardware and a 10mm socket.  

4.) While holding the other end bracket, rotate the bar expanding it out much like a shower curtain. Go until it meets the other side of the car and lines up with the bolt hole that held the clip.
5.) Install the other m6x1.0x20mm bolt that is included and then give rotate the tube a little bit more until its snug.
Notes:
This brace fits sedans and hatchbacks
Do not over tighten the tube or you can damage the car. Just simply snug it down. There is no added performance for cranking the brace down super tight.
-If you get clunking noises, this brace is not likely to be the cause unless you grossly undertightened the bolts. Common areas for clunking noises are end links, sway bar mounts, sway bar bushings, strut hat bushings, ball joints. We have never had this brace cause noises so check elsewhere.
-if you have issues with installation check the TB Performance Products Army Facebook page! There are loads of customers who have installed these parts and can help you out.  
-You will NOT need an alignment after this install.
---