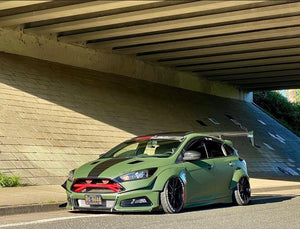 Ford Focus ST/RS Front Crash Bar Installation Guide
Congrats on your new TB Performance Products Crash Bar! In 2-3 hours youll be enjoying the new look and improved performance! 

Step 1: remove front bumper. This will involve removing the headlights on each side. 


Step 2: with the bumper removed, disconnect horns from oem crash bar. As well as the washer fluid reservoir. One bolt on the chassis will keep the reservoir in place. You do not need to fully remove it. 

Step 3: use a floor jack to come under the oem lower radiator support. Apply pressure but do not lift it. This is here to support the rad and keep relative alignment while the crash bar is replaced.
Step 4: remove the bolts that hold the lower rad support to the oem crash bar. 
Step 5: remove the 8 bolts(4 per side) that hold the oem crash bar onto the frame rails. Youll also remove the clips that hold the plastic rad support to the oem bar. One per each side
Step 6: install the tb crash bar onto the oem frame rails using the 8 bolts from step 5 the height of the tb crash bar is set so that the plastic rad support simply rests on the crash bar. Once the lower rad support is bolted in, itll apply light pressure and keep things solid.
Step 7: reconnect the lower rad support using the included hardware. It is 2 m8 bolts and nuts for each side. You may beed to use the floor jack to raise and lower the rad support to get things to line up. 
Step 8: remove the floor jack. 
Step 9: use a zip tie to reconnect the horns
Step 9: secure the bottom of the washer reservoir with a zip tie to the crash bar

Step 11: reinstall bumper

Step 12: reinstall headlights
Step 13: take pictures and send em to us! 
Notes: 
If you have difficulties or questions about installing check out the TB Performance Products Army Facebook group. There are a ton of fellow owners who have installed these. Its a friendly place to ask questions
---